Our Vehicle service department consists of friendly and professional service advisors and qualified technicians, who attend to all your service and repairs. Our Service department is run by a knowledgeable service manager Elize Labuschagne who has been in the industry for over 14years.The service department is open from 7 am – 5:30 pm weekdays. We are also open for service on Saturday's from 8:30am-1pm. Customers can contact us on 011 509 7301 to make a booking.Our service advisors will be your first and primary contact at the dealership, they are responsible for understanding what needs to be done on your vehicle. Our service advisors work hand in hand with our technicians, they interpret and note all concerns so that the service technician will address all repairs.

Mazda Southern Africa will repair or replace any part that fails to perform its normal function without any charge to the vehicle owner for the lifetime of the vehicle being possessed by the owner. The Mazda Lifetime Parts warranty applies to those replacement parts fitted by CMH Mazda Randburg and fully paid for by the vehicle owner; so, the vehicle owner will be required to produce the original repair invoice when returning to the dealer for repairs under this warranty. This non-transferable Mazda Lifetime Parts Warranty is an additional cover that will take effect after the 3 year / unlimited km factory warranty expires.

Training for our service technicians is on an ongoing basis as new vehicles go into production monthly. One of our technicians Bobo Nataniel Malapane recently qualified and was awarded a certificate from Mazda Southern Africa as a Mazda technician and we are proud of Bobo, who started as a cleaner a few years ago and because he is an ambitious young man he enrolled in one of the MERSETA apprentice programs and four years after his enrolment he qualified as a technician and still continues to further his studies and currently aiming to be a Senior Master technician.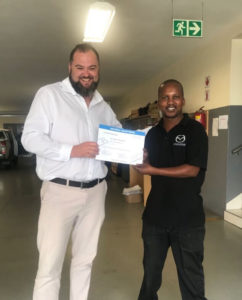 From the time you drop off your car in the morning until you pick it up, we ensure that we keep you posted and updated with the work we do on your vehicle.
Our courtesy vehicle will drop you off at your destination and pick you up when your vehicle is ready. The first shuttle leaves at 07:30 am while waiting at our service reception you can relax and have a cup coffee and browse through our magazines that are available at our reception.
We have free WI-FI for customers to browse the internet while waiting.

We at CMH Mazda Randburg are committed to saving water and the environment, our service vehicles get a Free Waterless car wash so you will go home with a clean and fresh car.
If you need help with your car – whether it's vehicle towing to get you home, or vehicle recovery from your home – we'll be here to support you.
You get our roadside assistance free of charge for 3 years unlimited on new vehicles.
Roadside Assistance: 0861 349 222
Mazda Southern Africa Customer Care: 0860 069 700
We at CMH Mazda Randburg pride ourselves in always giving our customers the best possible service.