First official image of New Mazda CX-3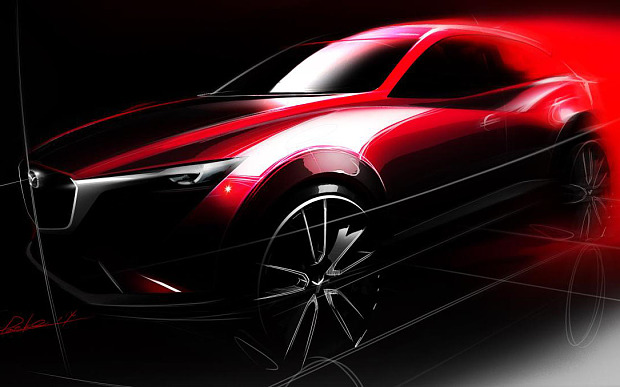 Production version of Mazda's new Nissan Juke rival will be revealed next month.
Mazda has revealed the first official sketch of its new Mazda CX-3, a small SUV which will be unveiled at next month's Los Angeles Auto Show.
The New Mazda CX-3 is likely to go on sale in the UK in late 2015, and will be priced to compete with the hugely successful Nissan Juke.
Under the skin, the New Mazda CX-3 uses the platform from the new Mazda 2 hatchback. And it's likely to be powered by the same engines: a 1.5-litre petrol and 1.5-litre diesel, both of which feature Mazda's Skyactiv efficiency technologies.
As for the looks, the sketch shows the New Mazda CX-3 uses the same styling themes as other Mazda models, but according to the company "evolved to produce a sharper form and an enhanced sense of speed".
The Los Angeles Auto Show opens to the press on November 18, with the New Mazda CX-3 scheduled to be unveiled at 10:30am local time on the 19 November. The show will be open to the general public from November 21-23.