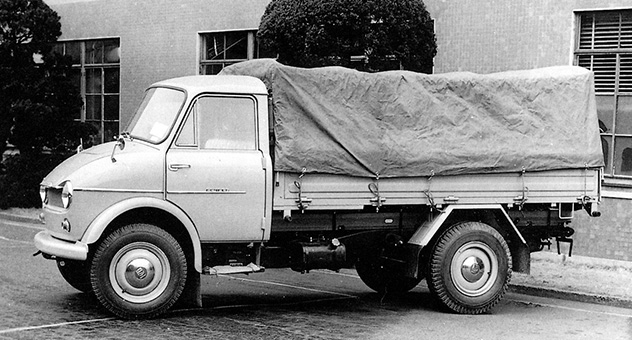 Mazda The Early Years, Three wheels and the rebuilding of a city.
Mazda's first car was the three-wheeled 'Mazda Go' and was exported to India and China where it was proved very popular thanks to its excellent manoeuvrability.
From the entreprenurial spirit of the companies founder, this was but one example of Mazda's unconventional thinking and 'can-do' attitude, that comes as a result of the "Hiroshima Spirit" of overcoming huge challenges.
The most dramatic demonstration of Mazda's unique spirit came in 1945, directly after the atomic bomb was dropped on Hiroshima. Mazda played an integral part in the reconstruction of Hiroshima – the Mazda plant itself was relatively undamaged in the blast – and was used as a place from which to organise the reconstruction and relief aid effort in and around Hiroshima.