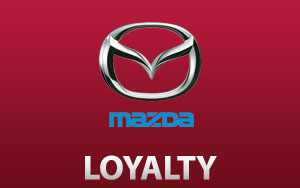 Mazda Owners Loyalty Program – In order to reward loyal Mazda owners, Mazda South Africa has announced the introduction of a loyalty program.
Offered on the new Mazda 3 and Mazda 6, customers who currently own a Mazda and trade it in on a new vehicle will qualify for assistance through the loyalty program.
However, in an effort to not disqualify those who choose not to trade in their current Mazda, those customers who are indeed Mazda owners will also qualify for the same assistance through the program.
This new loyalty program adds significantly to the value when purchasing a new Mazda 3 hatch or sedan or Mazda 6 sedan.
The recently launched all-new Mazda 3 is causing a stir in the market with a dynamic design – inspired by the corporate 'KODO' philosophy, a powerful, responsive yet clean and fuel efficient engine which embraces the SKYACTIV technology, combined with performance, delivering a generous serving of renowned Mazda driving pleasure – the Mazda 3 is unrivalled in market.
The Mazda 6 is the flagship sedan in the range and is destined to turn heads drawing upon the sleek beauty of the Mazda TAKERI and Mazda SHINARI concept cars. And with ultra-efficient SKYACTIV Technology underneath, there are no concessions to performance or fuel economy.
In the Mazda 3 and Mazda 6 Mazda's designers and engineers have truly come up with a striking piece of machinery whose looks immediately divulge what's underneath. A symbiotic blend of sporty, linear performance and smooth refinement that's destined to exceed customers' expectations.
Customers who are keen to take advantage of Mazda's new loyalty program are urged to contact their nearest CMH dealer for more information.